LITHUANIAN QUARTERLY JOURNAL OF ARTS AND SCIENCES
Volume 53, No 4, Winter 2007 
http://www.lituanus.org/2007/07_4_01%20Petauskaite.html
THE SPANISH DIMENSION IN LITHUANIAN COMPOSER JONAS TAMULIONIS'S WORKS
By Danutė Petrauskaitė and José María Esteve Faubel
Danutė Petrauskaitė is a professor of music history and theory, director of the Institute of Musicology at Klaipėda University, member of the Lithuania Composers' Union. She is the author of books and articles in Lithuania and abroad, made numerous presentations at local and international musicological conferences.
José María Esteve Faubel is an alumnus of Music Conservatory of Valencia, a lecturer with tenure (since 1987) and a head of the Music Department at the University of Alicante. In 1998, he defended a thesis on "The Song of Oral Tradition, the Romance." His main research works are in the fields of music pedagogy, historical musicology, and folklore.
There are not many historical connections between the two Catholic countries – Lithuania and Spain. Most often, the echoes of remote Spain reached Lithuania via literature, music, and art. In 1940, when Lithuania was occupied and Spain was under the dictatorship of Francisco Franco, the two countries lost all contact. However, despite this difficult historical period, there were still people in Lithuania who managed to learn Spanish and to gather information about the country's culture. One of those people was the composer Jonas Tamulionis. In 1990, when Lithuania regained its independence, full international cultural, economic, and political cooperation was renewed. People interested in Spanish culture were given the chance to visit the country and to establish connections with Spanish people. Because of the changes in Eastern Europe, the music of Jonas Tamulionis became more widely known. Written in a Spanish manner, his compositions were performed in Spain and the Canary Islands on a number of occasions and received the highest awards; he has won over forty prizes for his music at various international competitions. However, the bibliography on the composer is still not very rich. That is why our article will introduce Jonas Tamulionis to an English speaking audience and distinguish the traits of his compositions that essentially relate to Spanish culture.
Jonas Tamulionis: Life Path
Jonas Tamulionis was born on January 10, 1949, in Domantonys, a village in the district of Alytus in southern Lithuania. He came from a large and music-loving rural family that later moved to Naujoji Akmenė in northern Lithuania. At the age of seven, Jonas started attending secondary school in Mažeikiai. There he discovered his interest in music, taught himself to play the piano, and became an active participant in the school orchestra. After leaving school with a gold medal, he chose to study music. Upon graduating from the Lithuanian State Pedagogy Institute in 1970, he received a music teacher's diploma. But his dream to learn to write music gave him the will to continue his studies. This time he enrolled at the Lithuanian State Conservatory (currently, the Lithuanian Music and Theatre Academy). His dream came true when in 1976 the talented student received a professional composer's diploma.
During his student years, Tamulionis was an active participant in extracurricular activities: he was a member of an ethnographic ensemble, played the lumzdelis, a type of wind instrument, in the orchestra of the Folk Instrument Department, attended guitar tutorials and learned the basics of playing it. During his first year of studies at the conservatory, he also attended Spanish classes, but in order to learn the language more quickly, he devoted many hours of individual work to it. At that time, apart from his peers, Tamulionis expressed a great interest in Spanish and found it exotic. As the composer put it later, it was hard to say which came first, love for the guitar or love for Spain. "I feel an incredible attraction to Spanish culture, the country and its language. Maybe it is because of my love for the art of the guitar?"1. Today, Tamulionis speaks fluent Spanish and visits Spain almost every year. For him, the most memorable trip to the country was his first one, in 1979. His expectations were exceeded by his first-hand impressions, and later he was even more impressed by trips to Mexico and Cuba. Tamulionis said:
I remember when, on my way to Madrid, I heard people speaking Spanish, I felt like I was returning to my homeland. I only wanted to listen. The climate is very good for me since it is never too hot… Spanish language is a real pleasure.2
In addition to Spanish, the composer also speaks English, German, and Italian, and knows some Hungarian and Japanese as well.
From 1979 to 1989, Tamulionis occupied an important administrative post in the Lithuanian Composers' Union. Since 1977, he has taught various subjects of music theory at the Lithuanian Music and Theatre Academy. He spends a great deal of time at the computer, teaching young musicologists and composers to work with it; he has also devised an attractive course in computer notography, even though he is quite skeptical about purely electronic music. Currently, the composer works as a professor at the Academy, travels a lot, writes music intensively, participates in international music competitions, and is known as a composer of Spanish temperament.
A Survey of Jonas Tamulionis's Music
Instruments and Genres
Jonas Tamulionis has been writing music since 1971. He has been a very productive composer: the list of his works includes over 300 pieces (Sibelius Music). The compositions are mainly for the choir, accordion, and guitar. He is so prolific because he has received a large number of commissions. The major part of his compositions has been written for the choir, and more than half of those are for children. According to the composer himself, the choir is the most fabulous instrument, especially a mixed one, which has the most timbre capabilities.
Tamulionis wrote many songs, Masses, and oratories for choirs of a different structure. The greater part of the compositions are written a cappella, but there are some works written to be performed with instrumental ensembles that use either nontraditional instruments or have an unusual structure, for example, a guitar orchestra, organ, and keyboard. At the beginning, the composer wrote music to the lyrics of Lithuanian folk songs or poems by Lithuanian poets. Since 1990, he has offered his works not only to Lithuanian choirs, but to those abroad as well; and, therefore, he has started using texts in other languages, such as Latin, German, and French. There is a whole group of works on the Spanish theme: Canciones de la tierra, Ode al Atlantic, Los Juegos, Rosas de Hércules, and Aicá Maragá. They were written for the choral music competition in Las Palmas de Gran Canaria, where they won awards in 1995, 1997, 2001 and 2002. One of the main requirements for the compositions in this contest was for the lyrics to be written in Spanish. That was why Tamulionis wrote those pieces to the lyrics of Spanish poets. In 1996 and 1998, the composer participated in the competition as one of the judges: he was the only judge from a foreign country. After these honors, he received a commission to write an anthem for the Canary Islands football team. Lately, the composer has started writing commissioned music to African and Japanese texts.
In the long list of his works, a large part consists of instrumental chamber pieces written in the genres of prelude, fugue, toccata, passacaglia, suite (under the influence of the Baroque), quartet, sonata, concerto (traits of neoclassicism), song, poem, and rhapsody (under the influence of Romanticism). The ensembles employ a variety of instruments, including nontraditional ones. For example, Jota d'Aragon is written for two violins, a clarinet, trombone, accordion, and doublebass; Reminiscence for two violins and two accordions; and Trio for flute, viola, and guitar. Mostly the composition of ensembles includes accordion, violin, guitar, piano, and a Lithuanian folk woodwind instrument, the birbynė.
Half of his chamber-instrumental compositions are written for solo instruments, mostly guitar, accordion, and piano; there are also some traditional folk instruments – kanklės (psaltery) and birbynė. The composer likes the accordion very much, and his pieces for accordion enjoy popularity at international festivals. His sheet music is published in foreign countries (Concerto, Polyphonic pieces, Meditation, Toccata Diavolesca), and is frequently performed in Germany, Austria, Slovakia, and Italy. In the Third International Festival of Accordion Music that took place in Bratislava in 1994, Tamulionis made his debut as an orchestra leader and conductor: he directed the accordion orchestra that performed his composition Songs of Heavenly Birds. He also taught the interpretation of accordion music at the festival's master classes.
When Tamulionis became interested in the guitar, he began participating in various international festivals of guitar music. He visited Hungary and Cuba, where he met quite a few talented guitar players. One international project in Sweden attracted Tamulionis's attention: to create an oratorio using the music of composers from different countries. In that musical project, there was one fragment performed by a Swedish chamber orchestra and a Danish guitar ensemble. The composer considers the guitar to be technically a very advanced instrument; that is why, when writing music for it, he tries to play it himself. "Performers are always happier when the music material is performer-friendly." Some of his compositions are widespread in the world, since they were published by international publishers or sound recording studios.
There are not many compositions for piano, and these are mostly small pieces or single suites. Perhaps the piano did not become a dominant instrument in the composer's work because he has not had a chance to play it since childhood. It mostly remained as an equal partner in chamber ensembles of various compositions. However, the suite is one of Tamulionis's favorite genres, and it can be found in many of his works3 (Polychromatic Suite, Suite of Intervals, Suite of Modes No. 1 and No. 2, and Pastoral Suite).
Tamulionis was fascinated by orchestras of different composition, especially ones with additional solo instruments. He has written four symphonies, a concerto, and passacaglia, as well as pieces in other genres. The composer favors string instruments, for which he has written Concertino, Epitaphia, Dedication, etc., over wind instruments; he has refused the latter in his first two symphonies, and first used them only in the third one – Symphonia Rustica. Fascination with the orchestra was essential for him only in the first decade of his professional life. Every composer wants his works to be performed not just once or twice, but more frequently, but because of the large number of performers needed, it is quite complicated. Lately, Tamulionis has given most of his attention to choral and chamber-instrumental music.
Style
At the beginning of Tamulionis's musical activities (1971- 1980), his works, such as symphonies and sonatas, were dominated by the aesthetics of contrast: meditativeness and impulsiveness, lyricism and dramatic nature. The composer made use of specific stylistic reminiscences (romantic, impressionist, the musical language of Prokofiev and Shostakovich), or folk quasi-quotes. He was moderate in using modern means of expression, such as sonoristic and serial techniques, or aleatory, clusters (Symphony No. 2, Sonata for violin and piano No. 2).
Quite early on, Tamulionis started to use polyphony as the main means of music development. This trait has survived until the present day. The composer said: "Possibly, like many others, I have been through the 'illness of Bach'." There is no total lyricism in Tamulionis's works, as is often the case with many Lithuanian composers. On the contrary, his music is full of emotion, vividness, dance elements (not only Lithuanian folk tunes), swiftness (Spanish Mosaic, Dance, Lambada Concersts). However, Tamulionis also uses melancholic and calm expression (Meditations, Reminiscence, Memories, and Poem). In the first decade of his activity, Tamulionis's music can be described as "polyphonic ideas embodied on the basis of neoclassicism." 5
Since 1980, contrast has softened in Tamulionis's works (Meditations for Flute, Cello, Oboe, and Piano). The dramaturgy of one predominant mood appeared: deep thoughtfulness (Meditation for the string orchestra), or furious energy and vitality (Toccata Diavolesca for two accordions). But the composer did not totally abandon the aesthetics of contrast, for he continued to compare opposites (Contrasts for three accordions).
Another conspicuous trait of Tamulionis's works is the synthesis of folk music elements and modern means of musical expression. In fact, at the beginning, the composer was afraid to tackle the folk song for fear of ruining it. But he later dared to do it. For the first attempt, he did not take a tune from a song, but used the text of a folk numbering Šarkela, varnela, which is performed on a single note. This gave him the chance to freely manipulate the melody and to express the spirit of folk music. Later he started using specific intonations of songs and laments and paid greater attention to rhythm. Rhythm became one of the main elements of his musical dramaturgy. In the field of Spanish music, he gave priority to the compositions where a modern character combined with the spirit of national music.
Jonas Tamulionis's Works Inspired by Spanish Culture
Spanish themes are most often found in his choral pieces, but they are also present in chamber-instrumental compositions, including music for guitar, since for Lithuanian audiences, this instrument is a symbol of Spanish-speaking cultures. The table below offers Tamulionis's compositions, directly or indirectly related to Spain, in chronological order:
As seen in the table, Tamulionis began writing music based on Spanish stylistics in 1973, and his first compositions were for the guitar. This instrument, both solo and in ensemble, is at the center of the composer's attention up to the present. Tamulionis writes music for the guitar duet, trio, quartet, and even a guitar orchestra, looking for new sounds and timbres. Some of the pieces require excellent performance skills and the techniques of a chamber orchestra, (Sonata, Perpetuum mobile, Eleven Preludes); other compositions are written mainly for educational purposes (Suite of Intervals, Das Fest der Gitarren. It was not incidental that his Sonata was performed in 2004, at the Seventeenth International Andres Segovia Festival in Madrid. The performers were Duo Lapoli(Esther Poli and Leopoldo Saracino). A famous Spanish guitar player Javier Rida comparing Divertimento a dos by Italian composer Bruno Bettinelli with Sonata by Jonas Tamulionis wrote:
The composition was interesting even though it was not complex in terms of modern language, even the Sonata by Jonas Tamulionis, the most important contemporary Lithuanian composer. I am sorry I cannot give a deeper analysis of these pieces… In my opinion, I do not have criteria for an evaluation… I plan to establish them after further study. From the point of view of interpretation, the performance was correct, though the sound of both works was a little bit too aggressive or hard. The most attractive thing is that these are very different and unusual compositions.6
Tamulionis's compositions for the guitar attracted the interest of the famous Corona Guitar Kvartet, which in 2005, together with Duo Lapoli, recorded the most significant works of the composer: Perpetuum Mobile for three guitars, Sonata for two guitars, Eleven Preludes for solo guitar, and Per suonare a quattro. The CD editor of the American recording studio Albany Records wrote:
Have you noticed how some of the most interesting new guitar music is coming from Europe? Here is what Volkmar Zimmermann (a performer of the quartet–DP) had to say: 'Our first contact with Jonas Tamulionis harks back to 1997. As always, I was on the lookout for new and exciting works for guitar quartet. As it came to pass, I received a letter from the Lithuanian Music Information Center telling us about a composer hitherto unknown to us; a composer who we eventually came to discover possesses a loving heart for the guitar… It was truly a delight for us in 1998 when Jonas wrote his guitar quartet, Per Suonare a Quattro, which serves as the ticket for our journey, a serpentine path leading to this CD… we sincerely hope you will enjoy the music created by this eminent Lithuanian composer as much as we do.' Needless to say, guitarists will want to snap this one up, and listeners who enjoy the music of East Europe will be intrigued as well!" 7
After listening to Tamulionis's Eleven Preludes, an American guitarist Matanya Ophee expressed his admiration:
I am also very favorably impressed with Jonas Tamulionis's Eleven Preludes. These are generally quite short, but have a cumulative effect, and would work well when performed as a set. The writing is extremely idiomatic, and the sound is much richer than one would expect from the spare score. A few special effects are nicely integrated into the texture.8
Jeremiah Lawson, an American music critic from Seattle, said that Tamulionis's compositions for guitar are neoclassical, dominated not by Western, but more by Russian and Eastern European musical thinking, even though the influence of Ligeti and Steve Reich can be found.9 It is not uncommon for Western people to regard Lithuania as part of Russia, and they confuse these countries, missing all the Baltic specificity. However, as the critic aptly noticed, the composer's pieces for guitar are worth the attention of guitar enthusiasts, even though not all of them sound very Spanish.
For his "Spanish experiments," Tamulionis used the accordion, stringed instruments, and symphony orchestra, even a Lithuanian folk ensemble, but those were only a few attempts. After the restoration of Lithuania's independence, Tamulionis became interested in choir music, and wrote many choral pieces to Spanish lyrics. The selection of lyrics was inspired by different situations. Sometimes the composer found a poem that was attractive to him due to its poetic thought, other times he was intensively searching for the means that could meet his artistic idea. The main criteria for selecting the lyrics were the depth of poetic thought. In the composer's works, the music and the lyrics are usually closely connected. He describes the Spanish language as very musical and very conducive for singing.
The main theme that unites all the choral pieces by Tamulionis is the understanding of the transience of life and the world of human emotions, with love standing in first place. The composer found much inspiration in the poetry of Federico García Lorca, full of lyrical expressions of love. The poet himself liked to sing and play the guitar, and even though music was not his real calling, musical thinking was very naturally integrated into his poems. Tamulionis wrote five compositions on Lorca's poetry (Tres retratos con sombra, Canciones de amor, Canciones de la tierra, La luna asoma, Suite de los espejos) that reveal his love for Spain, its nature and its people, a romantic flight of imagination, and explore the immeasurable depths of the human soul. Tamulionis tried to reflect these emotions by using colorful musical language and Spanish rhythms. He tried not to drift away from the poetic mood, rising above everyday routine and fatality simultaneously (Canciones de amor), or from the play of the light moments of life (La luna asoma).
Another Spanish poet who inspired Tamulionis was Tomás Morales. Tamulionis got acquainted with his poetry at Charles de Gaulle airport, where he spent one night on his way home from the Canary Islands. His friends had given him a few poetry books by Morales, which the composer read with great interest. While waiting for his flight, he came up with the idea to write a five-part cycle Oda al Atlántico, which would musically describe the rage of nature and the stormy waters of the Atlantic Ocean. Tamulionis quickly selected suitable poems for it. Four years later, he composed another cycle Rosas de Hércules, dedicated to the eightieth anniversary of Tomás Morales' death. For this opus, he used the poems of different authors, dedicated to Morales. In 2005, the composer returned to the poet's work in his song El mar.
Jose Antonio García is a choir director who works at the Las Palmas de Gran Canaria Conservatoire and also writes poetry. Tamulionis first met him when participating in the choir music competition in Gran Canaria. During his second visit, Tamulionis got a gift from this musician: a collection of his poems. The composer chose several of them and wrote two compositions for female choir: Déjate ver mañana, and Rápata pa. The first one continues the theme of the transience of existence, and the other (for childrens' choir) is playful and colorful. The main character in it is a rabbit named Lin, which is running fast and full of anxiety because it is being chased by a toy puppy.
In his choral music, Tamulionis also used lyrics by some famous Canary Island poets: Felix Casanova de Ayal, Pedro Lezcano (Dos Poemas), and Manolita Manogil (Torrevieja querida). The main task for the composer was to find words to describe the human emotional condition. Tamulionis has written some music to folk lyrics as well. A developed folk song, Santo Domingo de la calzada, given color by the sound of castanets, tells the story of St. Domingo, celebrating the Holy Mass on holiday and blessing all the people. The cycle Los Juegos, mostly performed by a children's choir and based on Spanish numberings, is very playful, giving a chance for little singers to express their vivid imaginations. In those and many other musical compositions Tamulionis tried to express Spanish uniqueness.
Form and Texture
The composer's favorite form of composition is the cycle. According to him, it is very convenient when writing a compound choral piece. Performers can choose whether they want to perform the whole cycle or only a few parts of it. In the Canary Islands competition, the requirement was for one piece to last from ten to twenty minutes. That accounts for the cyclical form and the number of parts in some of Tamulionis's works. Therefore, this form is used for part of his choral and instrumental works. There are different numbers of parts in the cycles: from two (Lambada concertante, Déjate ver mañana) to six or more (Canciones de amor, Suite of Intervals). The sequence of movements is formed by the principle of contrast. The introduction and the final movement in the choral compositions are usually slow (Canciones de amor), and the middle movements are more vivid and developed. The climax is mostly in the middle movements or the ones before the finale. In the instrumental pieces, the sequence is sometimes the opposite: the first movement is faster, and the second one is slower (Sonata for guitar). The forms of the movements are very different. In the slow movements, full of melancholy, the composer uses the form of one section, where the main thought is expressed in one musical phrase. The traits of repetition are common to simple and compound (binary and ternary) forms. These forms also appear in one-movement pieces.
There are two kinds of texture in the compositions of Tamulionis: clear and massive. Clear texture is used in the slow movements and the meditative, static parts (Eco from Canciones de amor). In this texture, the notes are "scattered" for different instruments, but it does not destroy the melody and allows one to feel the general expression of the movement as a whole. Tamulionis also likes the effect of the pedal-bass (Endecha de las dos islas). The massive texture can be characterized by both homophonic and polyphonic disposition of instrumental parts. In the homophonic texture, the sound is intensified by doubling the instrumental parts; in the polyphonic texture, the parts are more individual.
Time and Rhythm
Tamulionis likes changing time, which is common in Spanish folk music, and he does it in both instrumental and choral compositions. Very often there are episodes where time is changing in every measure (Tres retratos con sombra). In choral works, such time is used because of the Spanish lyrics. According to the composer, he cannot write music any differently, if he wants to preserve the authentic accents of the Spanish language. It is especially important for the poetry of Federico García Lorca.
In slow and melancholic movements, the time is accented and regular, consisting of two or four beats in a measure. In those movements, the whole notes carry out the harmonic function that serves as a background for the melody. Time and rhythm are perceived on the vertical and horizontal lines, and it is very relative since major attention is given to the color of the sound (Preludio IIfrom Canciones de amor). The accent from the first part of a measure is often shifted to its middle or end, and that gives more Spanish character to the music. The rhythm of the Cuban habanera (La luna asoma, Torrevieja guerida) or jota (Jota d'Aragon) is used in many compositions. The fast movements, expressing joy and playfulness, can be characterized by moving triplets. Triples are one of the composer's favorite rhythmic formulas that often appear in Spanish music (5th movement from Eleven Preludes for guitar; Narciso from Canciones de amor). In some compositions, the rhythm expresses a playful mood (Los Juegos, Rápata pa).
Melody and Harmony
Three types of melody are present in Tamulionis's compositions. The notes for the first type of melody move gradually to the nearest ones of the next scale without large intervals. In the second type of melody, the notes are scattered across different parts. This recalls the technique of pointillism, which is found in the slow movements. The third type is a very vivid melody with many "jumps" from narrow to wide intervals. The most popular intervals are thirds, fourths, or fifths, but rarely sixths and sevenths. One such "jump" is the interval of the fifth, which consists of the basic sounds of the melody (Canción con movimiento from Canciones de la tierra).
The structure of melodies is very different. Some are very simple, consisting of the main degrees of the scale (tonic, dominant, and subdominant). Others are more complex, consisting of secondary degrees of scale. The favorite intervals include the nostalgic "jump" of seventh or "complaining" slide of the second interval, moving across seventh chords. The composer used recitatives (musical declamation), as well as authentic melodies (Lambada concertante, Santo Domingo de la calzada). In one of his latest compositions, Games for guitar and string quartet, the first movement consists of fragments of the bulerias dance. In the last movement, the authentic material was combined with Spanish melodies and harmony.
There are two types of harmony in Tamulionis's music: colorist chords based on chromatic sounds and diatonic chords. According to the composer, it is very important that the harmony is both rich and simple. That is why he tries to present all the possibilities of sounding. He prefers a colorist harmony that overwhelms the functionality of the diatonic chords. He expresses different moods by combining major and minor chords. The composer uses chords with additional notes; in the slow movements he likes to continue the same note from one measure to another. There are different seventh chords and their variations, and altered chords as well. Modulations in the colorist harmony are one of the main means of expression. The change from one mode to another, postponing cadences, creates an atmosphere of transience. Sometimes the last chord of the cadence begins the next movement. The climax is achieved gradually, by adding new chromatic sounds; the dramatic effect is created by pedal-bass and more massive texture (Lambada concertante).
In diatonic harmony, the different modes and functionality of chords are clear. In that type of harmony, modes often change in the vertical line. Sometimes this change becomes the spiritus movens of the music. The slides of modulations into new tonalities contribute to the achievement of maximum dramatic tension and climax (Elogio de la vida campesina from Rosas de Hércules). Another way to reach a climax is polyphonization of the texture. At the highest point of the climax, the texture again becomes homophonic (Endecha de las dos islas).
Even though he uses the characteristics of Spanish music, Tamulionis remains a Lithuanian composer. Sometimes he visually combines models of the two cultures: Spanish rhythms and Lithuanian melody, as well as the harmonic elements that can be found in the works of Isaac Albéniz (Preludio lituano a modo de Albéniz).
The musical works of Tamulionis are getting more and more international recognition. His works are performed in various countries in Europe, in North and South America and Japan. His works have earned numerous awards not only in Lithuania, but also in Spain, Switzerland, and Italy. The most recent award for the composer was a diploma of honor, received in 2006, for Dyptich for Guitar and Flute in the Seventh International Competition for compositions for classical guitar. Over fifty pieces were submitted to the contest. Tamulionis's composition was selected for the final round and ranked among the three best.
Conclusion Jonas Tamulionis is one of the most productive Lithuanian composers in whose works the contemporary means of musical expression are creatively combined with elements of folk music from different countries. The Spanish dimension is most developed in his works.
The musical compositions of Tamulionis influenced by Spanish culture are a great contribution to Lithuanian music. It is a kind of cultural exchange, allowing Lithuanian and Spanish people to glimpse each other's worldviews.
Tamulionis's music is moderately modern and attractive not only to professional performers, but also to amateur musicians. Music teachers and leaders of children choirs should also become interested in the Lithuanian composer's works, since those musical pieces could enrich their concert repertoire and contribute to the general knowledge of music.

1. Andrikonytė, 2.
2. Gaidamavičiūtė, 40.
3. Ibid., 38.
4. Gudžinskaitė, 29.
5. Ibid., 30.
6. La obra estaba interesante aunque en un lenguaje actual no era muy duro al igual que la Sonata de Jonas Tamulionis, compositor lituano, el más importante compositor lituano vivo. Siento no poder comentar mas a fondo las obras…pero en mi opinión me falta criterio todavía…que espero subsanar con estudio. A nivel interpretativo me pareció correcto, aunque el sonido de ambos era un poco agresivo o duro. Lo mas interesante es que han tocado obras de estilos muy diferentes y no habituales.
7. Selected Compositions… Editorial Reviews.
8. Catalog.
9. Selected Compositions… Customer Reviews.
WORKS CITED
Andrikonytė, Asta. "Kompozitorius J. Tamulionis tapo Kanarų salų numylėtiniu." Lietuvos rytas. Mūzų malūnas. 1998 02 03.
Catalog. http://www.orphee.com/reviews.htm#vol-1.
Gaidamavičiūtė, Rūta. "Ispaniškas aromatas lietuvių muzikoje." Kultūros barai. 1999, Nr. 4.
Gudžinskaitė, Eglė. "Jonas Tamulionis: širdyje Ispanija, mintyse – muzika ir kompiuteriai." Muzikos barai. 1999, No. 9.
Selected Compositions for Guitar. Customer Reviews. http://www.amazon.com/gp/product/B000C6NOAK/002-496658-2232009?n=5174.
Selected Compositions for Guitar. Editorial Reviews. http://www.amazon.com/gp/product/B000C6NOAK/002-4966658- 2232009?n=5174.
Sibelius Music. Jonas Tamulionis. http://members.sibeliusmusic.com/ JonasTamulionis.
XVIII Festival Internacional Andres Segovia en Madrid. http://guitarra.artelinkado.com/foros/showthread.php?t=1388.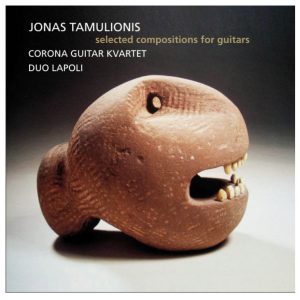 ---